Today I thought I would share another one of my favorite books for teaching reading, specifically the reading strategy visualizing. Sometimes this strategy gets described as being able to create a mental image in your head, but it is much more than that. Especially as readers get older and become better readers.
Visualizing is an important reading strategy that develops over time and through the grade levels. First, kids start seeing pictures or snapshots in their mind of what they are reading. Then, the pictures begin to run together and "make a movie in their mind."
Finally, the reader begins to imagine much more than what has been written on the page. All their schema and inference skills come together and they create a world in their mind for the characters to live and the story to take place. Good readers don't just read their stories, they live their stories.
One of my favorite books for getting kids to visualize beyond the text is
The Salamander Room
by Anne Mazer. First of all, this book has gorgeous illustrations! The book is so visually pleasing it seems a crime not to show the pictures to my students at first, but I love hearing what they come up with in their minds based on the text, which incidentally, is also beautifully written.
Side Note: I have found many Reading Rainbow books to be excellent for teaching reading strategies. The books are well-written but not too long, making it a bit more manageable if, like me, you enjoy sharing the whole book with your students.
The lesson I do around this book is very simple and developed from the ideas and lessons found in
Strategies That Work
by Stephanie Harvey and Anne Goudvis. This ladies are two of my comprehension idols! Love them!
Step 1: Review visualization with students highlighting why it is important to readers. Make sure to include that when readers visualize the story, it makes the story come alive and makes it more fun to read! It is also important to note that our level of visualization will always vary depending on the text we are reading and our background knowledge. Even though I am a very high reader, I do not always visualize at the highest level. For example, when reading or trying to read my husbands law books I pretty much get nothing which is also a clear indicator that meaning has broken down and I don't understand. When reading books set in Washington state, I see it all!
Step 2: Introduce the book.
Step 3: Read the story and share the pictures until you come to a quote you have already picked out. Then, stop! Don't show the pictures....yet.
Have students stop and think about what they see in their minds. I always have them close their eyes and picture it. What do they see? What do they hear? What do they add to their own picture to help the image come alive? Encourage them to use all their senses and build on what the author has said. See more than what is in the text.
Have students share ideas out loud and jot a few ideas onto your anchor chart. Then, show the pictures and discuss how the illustrator interpreted the author's words.
This is the chart my 5th graders helped me create. Sorry for the imperfect spelling and sloppy writing. It is not as pretty as so many I have seen online, but it shows good thinking which is the most important part.
Side Note: I love already having my quotes picked out and printed. It makes creating the anchor charts with the kids so much easier! They are there for the most important part, but it gives up a little jump start.
The next picture gives you a close up of what my kids pictured while I was reading.They had so many great ideas, we were cramped for space, so complete sentences just flew right out the window.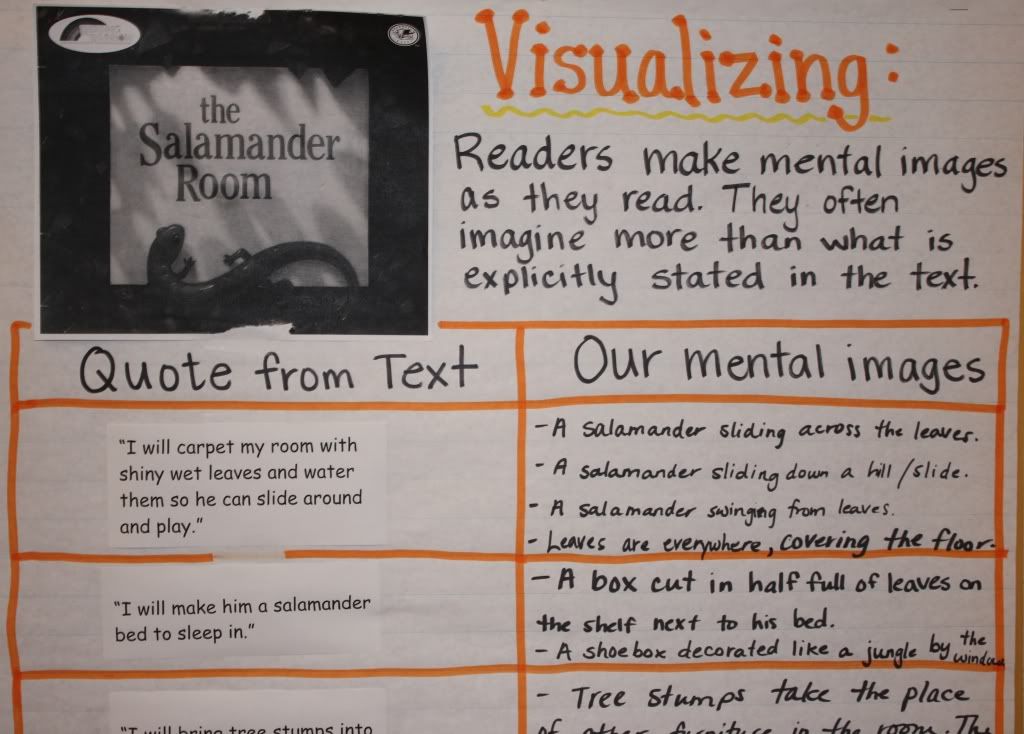 You can't see the last box on here which is my favorite. The line reads, "We can lift off the ceiling." Here is what my students visualized:
lifting up the entire second floor of the house by a crane
rocks and debris falling into the room
chainsaws going, lots of construction noises
helicopters coming to life the roof away
Pretty imaginative for reading just one line!
Step 4: Have students draw their own salamander room in their reading response journal and continue working on this strategy during independent reading or read to self. I have my students collect lines that create great images on post-its so they are easy to share whole group, small group, or in their next reading conference.
Oh my, this post has gotten longer than I expected. Sorry to ramble and thanks for making it all the way to the end of this post. As your reward, scroll down to get the quotes I used from The Salamader Room to use on your next anchor chart if you so desire or choose your own from any text you love. Happy visualizing!
Visualizing Lesson - Salamander Room