First, I want to send out a huge THANK YOU to Corrina from
Mrs. Allen's Fifth Grade Files
for guest blogging for me on Friday. If you missed her post,
click here
to read about a fabulous new app. Then, go check out her blog for even more wonderful posts. She's also having a Teacher Survival Kit linky party. Um... FUN!! Thanks for being here Corrina!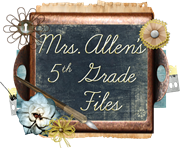 Next up...the big room reveal. It started with a couple cans of paint and now it is ready to be viewed. And thank goodness because....
School starts tomorrow! And, I'm as giddy as a first year teacher.
My classroom is ready. My plans are....well, almost ready. And I'm ready and eager to begin a new year with new kiddos.
Meet the Teacher night was last Thursday and I had so many kids show up to say hello and drop off supplies. I have some really great kids this year. AND I have some super high readers!! I'm really excited about this because (as many of you know) I LOVE books and I LOVE reading, so I LOVE having students that share my passion. So excited!!
So, without further ado...welcome to my classroom.
Remember? No door and fake walls.
Not much in my room is magnetic, but my file cabinet is. So... I turned it sideways, put up some butcher paper and border and made a check-in board. Sorry for the blurry pic.
Most of the kids at my school order hot tray, but I do need a small space for a few kids to put their lunch box. I got this laundry basket at Target for $4 and it works perfectly.
This is the front of the classroom.
Left Side:
Right Side:
This is my teacher area. See how clean and organized it is? Let's hope this lasts.
Here is part of my classroom library (i.e. chapter books). I still need to print off a few more book bin labels to get everything cleaned up and ready to go 100%. The basket on the far right is for book returns. I have found it is much easier to train one person at a time. The class puts books in the bin and my librarian "shelves" them accordingly. This keeps book from getting put back in the most random places.
My carpet/teaching corner is ready to go. My Daily 5 signs are up and there is plenty of space for all my I-charts to go in the next few weeks. Those multi-colored bins hold... you guess it...more books. I also keep comics, newspapers, joke books, and class books there.
Yikes... I just noticed I haven't loaded my chart stand with paper. I will need to take care of that first thing.
This is all my storage space. We call these giant things elephants. The right one is for backpacks and the left one holds all my math manipulative, art supplies, and extra school supplies. It was a challenge to get everything in there, but I did it. The small space makes you really think about what you keep and what can get tossed.
Here you can see my "door" and my extra bookshelves that hold...well..everything.
See the books on the top of the tall bookshelves? Those are my "top shelf" book. i.e. The books most 4th graders can't read at the beginning of the year but are too good not to have available. I just pull them down as needed or as requested. :)
Here is a zoomed in shot of my job board. I have my students apply for jobs and they keep the job for a month. This way they get really good at it and can train the next person who takes over.
Below are just some general shots of the room, so you can get a sense of how everything is laid out.
So, there you have it. I hope you enjoyed the tour and maybe even found some good resources along the way.
Now, I'm linking up with all the wonderful bloggers below. I can't wait to see all the other creative classrooms that have already joined the party.