When have I ever turned down the opportunity to talk about books? That's easy....um... never!
As all teachers do, I love books. Actually, I think it is more than love. Is there a word for that?
That being said, I simply had to join the Must Have Picture Books linky party, graciously hosted by
The Teacher Wife
.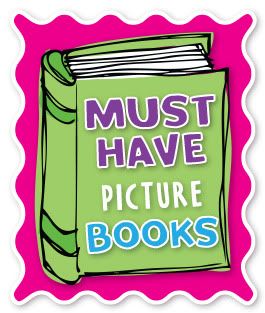 The rules state that you can only choose 5 books. Well, everyone knows that is basically impossible. How do you choose just five books?
I needed a category to help me narrow down my options, so I choose childhood favorites.
My picks are all books I read and loved as a child. I have since used them in my classroom with much success. Great books are simply great books regardless of the publishing date.
The Talking Eggs is a beautifully illustrated book about a young girl, Blanche, who lives with her mean older sister and equally mean mother. On a trip to the well, sweet Blanche meets an elderly woman who shows her many amazing and unique things. Blanche never laughs or says unkind things and follows all the directions given by the old woman, so she is rewarded with talking eggs. Upon returning home, her mother and sister want their own talking eggs and the treasures inside, but their own greedy and nasty ways prevent them from gaining any riches.
Excellent book for teaching character traits and cause and effect.
The Story of Ferdinand is about a bull who just LOVES to smell the flowers. When he is stung by a bee, Ferdinand accidentally misrepresents himself as a fierce and brave bull. He is immediately selected to go into the bull fighting ring with a matador, but when there he continues his passivity and sits right in the middle of the ring and smells the flowers.
Great book for character traits and just a fun read aloud.
In Petunia, Petunia discovers a discarded book on the farm and realizes that a book is just what she needs to be more knowledgeable. She carries the book around everywhere. Her friends (thinking she is full of knowledge) ask her for help and she offers them the worst possible advice. In the end, Petunia learns that it is not enough to carry a book around with you; you must learn to read and with reading comes knowledge.
A fabulous book to highlight the importance of learning to read and talk about author's message. The kids also find the illustrations quite comical.
The Story About Ping takes place in China on the banks of the Yangtze River where Ping lives on the Wise Old Boat with his HUGE family. Each day he and his family are sent out, but they must come back when the whistle calls. Scared of being the last duck on the boat, Ping does not go home one night only to find himself on an adventure he would rather avoid.
Good book for theme and authors message. I've just always loved this story.
In The Jolly Postman or Other People's Letters, the postman goes around town delivering letters to fairy tale characters. Each page has a letter that can be pulled out and read separately. For example, Goldilocks writes to the three bears apologizing for causing so much trouble. It's lots of fun to read fairy tale mail and all the letters make great examples for different types of texts and writing formats.
This is a fun one to incorporate into writing and reading responses.
What books did you read and love as child? Please share your favorite childhood books and memories around the books below in the comments section.
I think my all-time favorite was Madeline. Just classic! I could recite the whole book as a kid.
"In an old house in Paris, all covered in vines, lived twelve little girls in two straight lines..."
I could probably still recite the first few pages, but not the whole thing anymore. Sadly, I haven't figured out how to incorporate that into my classroom, so it didn't make my list today. Any ideas?
For other books I love and book lists I have created, click below.
Favorite Fall Read Alouds
Favorite Picture Books for Teaching Comprehension
Favorite Baseball Books
Fiction Friday
And stay tuned for many more to come.
Happy Reading!!